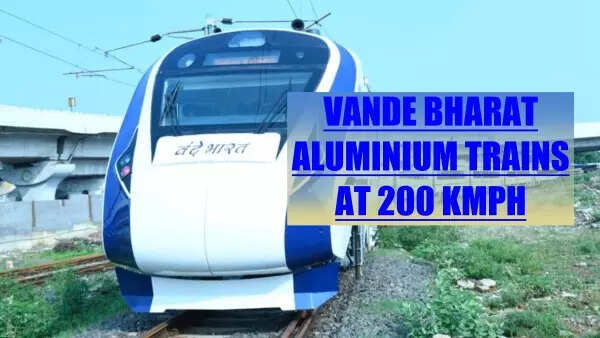 Vande Bharat aluminium trains will be game-changers for Indian Railways, says Sudhanshu Mani, former GM of Integral Coach Factory (ICF) in Chennai. Indian Railways is looking to manufacture 100 aluminium Vande Bharat train sets in the coming years – a first for the national transporter. Recently the technical bids for the Rs 30,000 crore project were submitted.
Sudhanshu Mani, also known as the innovator of Vande Bharat Express trains, believes that at 200 kmph speed potential the aluminium trains will change the face of Indian Railways. Watch this week's TOI Business Bytes episode to know what Sudhanshu Mani has to say about the advantages of aluminium trains for Indian Railways and passengers, their features, likely fares, the business opportunity and export potential.
Vande Bharat aluminium trains will change the face of Indian Railways at 200 kmph speed
Two major railway equipment manufacturing firms – Swiss major Stadler in a tie-up with Medha Servo and France's Alstom have submitted bids for making aluminium train sets in India. According to the tender, these 100 aluminium train sets will be sleeper trains.
Vande Bharat Express train was first introduced in 2019 on the Delhi-Varanasi route. Since then 9 more Vande Bharat trains have been rolled out. While the first two trains were prototypes, Indian Railways started rolling out the Vande Bharat 2.0 upgraded trains from mid-2022.
In their present form, Vande Bharat trains are air-conditioned chair cars, superior to Shatabdi Express trains in terms of features. The semi-high speed self-propelled Vande Bharat trains are capable of running at 160 kmph.
Indian Railways hopes to now roll out the sleeper version of the Vande Bharat trains. 200 sleeper Vande Bharat trains – a more premium version of Rajdhani Express trains – are expected to be manufactured in the coming years.
At the same time, the national transporter is hoping to acquire the manufacturing prowess for aluminium trains which are increasingly becoming a norm world over.