[ad_1]

NEW DELHI: The Supreme Court rapped the Delhi Police on the knuckles Friday for registering FIR on the alleged hate speeches made at
Dharam
Sansad in Govindpuri in December 2021 after a lapse of five months and not making an arrest or filing chargesheet till date.
A bench of CJI DY Chandrachud and Justice PS Narasimha fired questions at additional solicitor general KM Nataraj after petitioner Tushar Gandhi said there was an explicit call for violence at the Dharam Sansad and yet in flagrant violation of the SC's Tehseen Poonawala judgment directing expeditious action against hate-mongers, police has taken virtually no action.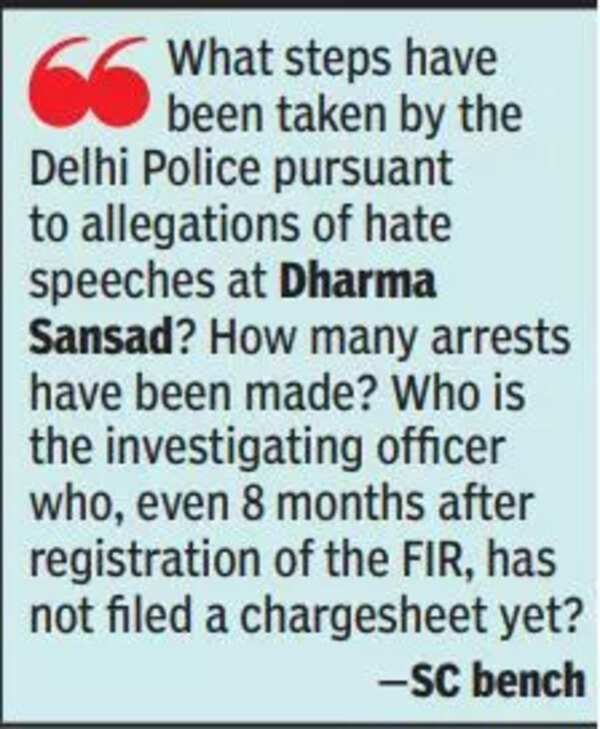 SC: What steps have been taken since FIR?
Tushar Gandhi's counsel Shadan Farasat said his client is not interested in contempt proceedings against the Delhi Police commissioner, but wants action on the ground to protect the secular fabric and communal harmony in the country.
The bench turned to Nataraj and asked, "What steps have been taken by the Delhi Police pursuant to allegations of hate speeches at Dharam Sansad? How many arrests have been made? Who is the investigating officer who, even 8 months after registration of the FIR, has not filed a chargesheet yet? The incident is of December 19, 2021. How long would it take for the Delhi Police to complete the investigations and file a chargesheet?"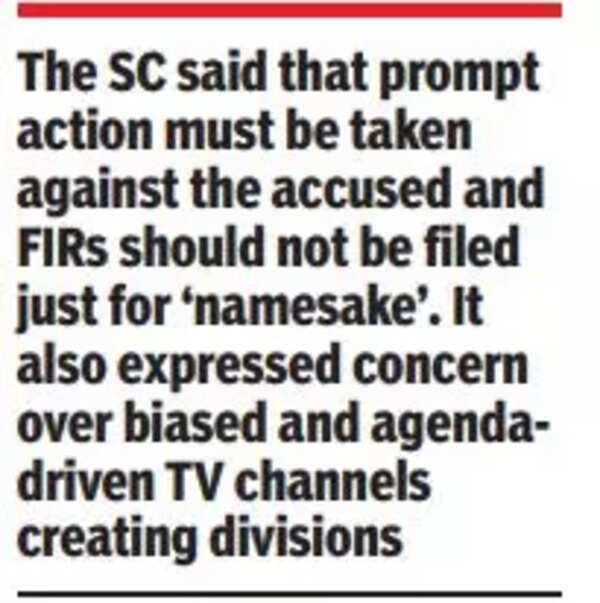 Nataraj said the FIR has been registered and probe is proceeding. "The petitioner cannot dictate how the investigation should be carried out. The Delhi Police is not in contempt as directions issued by the SC in 2018 in Tehseen Poonawala case have been fully complied with," the ASG said. However, the SC asked the Delhi Police to file an affidavit within two weeks detailing the steps taken since the registration of FIR on May 4 last year.
In April last year, the SC had taken strong exception to the Delhi Police affidavit, which had said, "After a deep inquiry and evaluation of the contents of the video, police did not find any substance in the videos as per the allegations levelled by the complainants. In the video clip of the Delhi incident, there is no utterance against any particular section. Hence, after inquiry and evaluation of the alleged video clip, it was concluded that the alleged speech did not disclose any hate words against a particular community as alleged or otherwise." The Delhi Police informed that all complaints are now closed. A month later, it registered the FIR.


[ad_2]

Source link