[ad_1]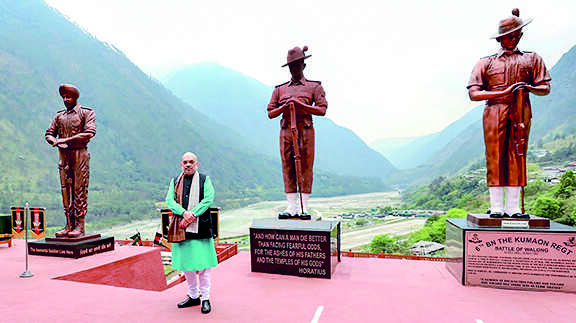 NEW DELHI: India on Tuesday rejected China's condemnation of Union home minister Amit Shah's visit to Arunachal Pradesh, saying it didn't stand to reason and wasn't going to change the reality that the northeastern state was and will remain an integral part of India.
Beijing had reacted to Shah's visit on Monday saying it violated China's territorial integrity and wasn't conducive to peace and tranquillity in the border areas. "We completely reject the comments made by the Chinese official spokesperson. Indian leaders routinely travel to the state of Arunachal Pradesh as they do to any other state of India," said MEA spokesperson Arindam Bagchi, reacting to China's statement on Shah's visit.
"Arunachal Pradesh was, is and will always remain an integral and inalienable part of India. Objecting to such visits does not stand to reason and will not change the above reality," he added. India had come up with a similar response last week — that Arunachal is and will remain an integral part of India — after Beijing issued Chinese names for 11 places in the state apparently in response to a G20 meeting in the state that India held despite objections by Beijing.
India last week also announced dates for a G20 meeting in Srinagar, undeterred by objections by both Pakistan and China. The recent tensions over Arunachal come ahead of key visits, including by Chinese defence and foreign ministers, from Beijing for SCO meetings. Chinese President
Xi Jinping
is also expected to visit India for the SCO summit in early July.
In a message to China from the border village of Kibithoo in Arunachal Pradesh, Shah on Monday had said "no one can dare cast an evil eye on India's territorial integrity and encroach even an inch of our land". He had said the era when anyone could encroach the borderlands of India was over.
Watch
Amit Shah launches vibrant villages program on China border in Arunachal Pradesh


[ad_2]

Source link