[ad_1]

BENGALURU/NEW DELHI: The Election Commission on Wednesday set
May 10 as the date for the single-phase assembly polls in Karnataka
, raising the curtains on a busy electoral season featuring other important contests in the run-up to the 2024 Lok Sabha polls. This will be the first state election in the wake of Rahul Gandhi's disqualification and the bitter battle between Congress and
BJP
over Adani.
The polls set the stage for an intense
BJP-Congress contest in Karnataka-in fact, the first of four this year-and will be marked by a determined effort by former PM HD Deve Gowda's JDS
to prove its relevance by denying either of the principal combatants a clear victory, and use the consequent situation to play kingmaker.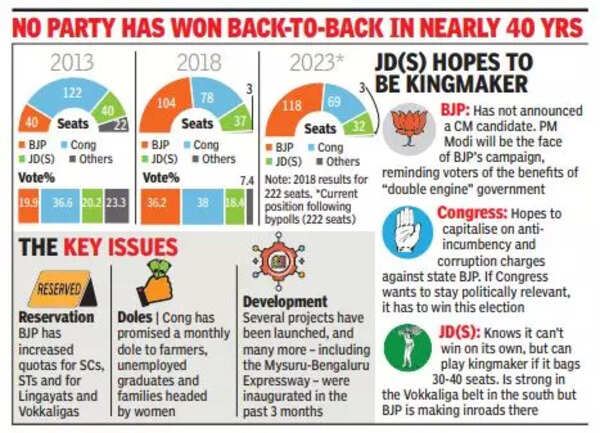 Congress has more riding on the results, to be announced on May 13, due to the sheer need to check the perception of an inexorable slide and to present itself as BJP's main challenger – a billing that would enhance its standing among voters opposed to the saffron party. The polls mark a prestige battle for Congress chief Mallikarjun Kharge, who hails from the state, where his son is an MLA. The party also has the advantage of being in the opposition in a state that has for close to four decades voted out the incumbent.
BJP hopes to defy the pattern of rotational politics on the strength of the personal appeal of PM Modi, who had five years ago turned things around with his energetic campaign, its last-minute quota manoeuvres, and Hindu consolidation beyond the coastal belt. A victory in Karnataka would be a big morale booster for BJP ahead of face-offs with Congress in Madhya Pradesh, Rajasthan and Chhattisgarh towards the year-end.
JDS, though no longer the force it used to be, is determined to make it a triangular contest by holding on to its base among the Vokkaligas and cornering a slice of Muslim votes. Many of the regional formations opposed to BJP but loath to be conscripted into Congress's ambition, would rejoice to see it throwing the spanner in Rahul's works.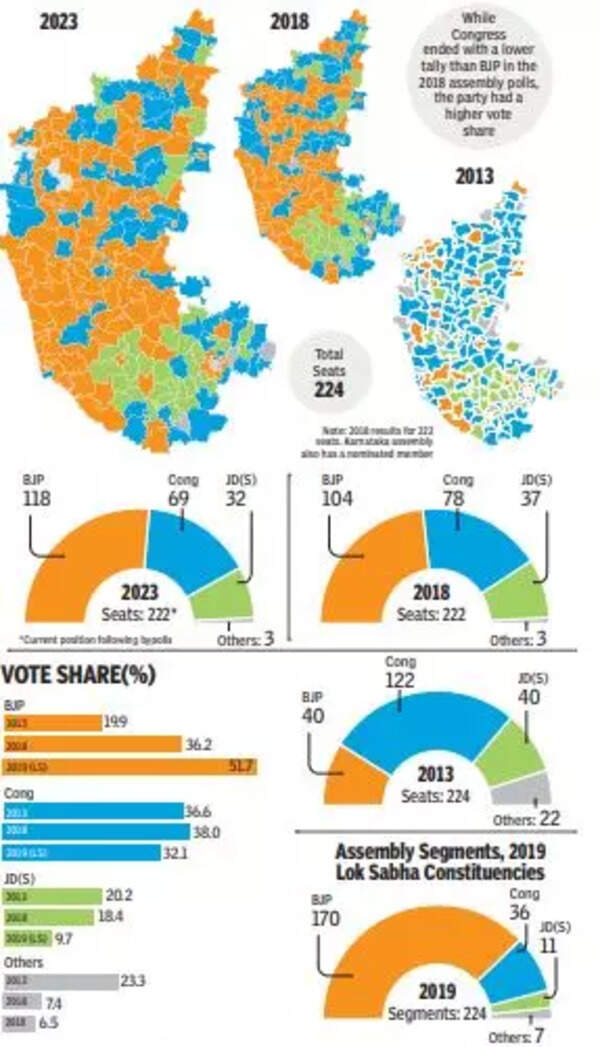 BSY vs Sidda vs Deve Gowda: A battle of castes and old rivals
To win a majority, both Congress and BJP must perform well in the old Mysuru region, which has 61 seats, as well as in regions such as Kittur-Karnataka and Kalyana-Karnataka. If BJP fails, it will struggle to reach the 113-seat threshold, and if Congress fails, JDS will likely end up with enough seats to play kingmaker.
The governing BJP, which won 104 of the 224 seats last time, boosted its tally subsequently by engineering defections from Congress and JDS. Thanks to 'Operation Lotus', it now has 119 MLAs in the Karnataka assembly, followed by Congress with 75 and JDS with 28 legislators. The remaining two seats are vacant.
To a significant extent, the battle among political parties also marks a contest between old rivals – BJP's leading light BS Yediyurappa, Congress's SS Siddaramaiah and his ambitious colleague DK Shivakumar, and the father-son duo of HD Deve Gowda and HD Kumaraswamy, and their respective castes – Lingayats, Kurubas and Vokkaligas. This also presents an opportunity for incumbent CM Basavaraj Bommai and Shivakumar to consolidate their position and their claim to the powerful office in Bengaluru.
Of course, Modi, Amit Shah and Rahul Gandhi will loom large over the campaign that has already been joined on JDS's behalf by regional players like Telangana CM K Chandrashekhar Rao.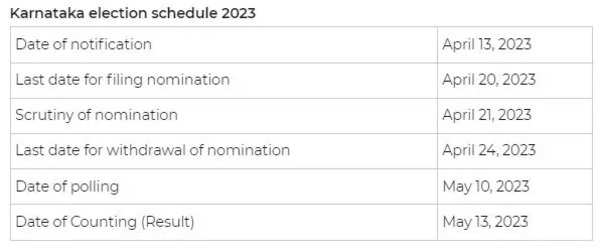 Congress is going all out to woo the voters with five major poll guarantees, which include 200 units of free power to all households, Rs 2,000 in monthly assistance to the woman head of every family, 10kg of free rice to every member of a BPL household and a Rs 3,000 monthly allowance for unemployed youth.
But BJP's entrenched caste and religion-centric politics seems to be diluting the likely adverse electoral impact of anti-incumbency and Congress's pre-poll promises. The modification of the reservation matrix to benefit the major four communities – Vokkaligas, Lingayats, Scheduled Castes and Scheduled Tribes – has provided the saffron party much-needed ammo.
AAP has plans to make an entry in urban areas. While it may appear to have lost its sheen because of its recent collaboration with parties it had earlier accused of corruption, it would like to capitalise on the ambitions of aspiring players who don't get to play for the bigger sides.
Announcing the poll schedule in Delhi, chief election commissioner Rajiv Kumar said EC consciously chose to schedule polling on a Wednesday, as past trends indicate that holding the poll at the start or end of the week allows voters to take leave on poll day and stay at home or travel out during the "long weekend". Recalling that urban apathy brought down voter turnouts in most of Bengluru's seats in 2018, Kumar said EC has been engaging with schools, colleges led by the Indian Institute of Science and IT professionals in Karnataka through an 'Electhon 2023' and hackathon to find ways to enhance voter outreach.
The total electorate in Karnataka stands at 5.2 crore. Voters in the 18-19 age group total 9.2 lakh and include 41,432 first-time voters. With the EC focusing on registration of marginalised groups like persons with disabilties (PwD) and senior citizens, 12.15 lakh elderlies above 80 years of age, including 16,976 centenarians, have enrolled, a rise of more than 32% over 2018. Even PwD voters in the rolls have risen by 150% over 2018 to 5.5 lakh.
As part of its inclusive agenda, the EC has ensured 100% enrolment of 30,517 eligible people belonging to two particularly vulnerable tribal groups (PVTGs) – Jenu Kuruba and Koraga – and will set up 40 "ethnic polling stations" in tribal areas.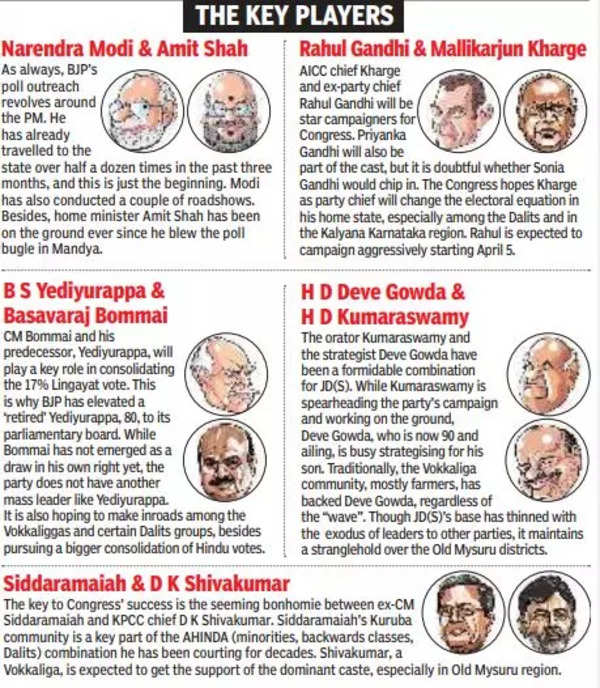 A triangular fight again
BJP: For the first time, BJP is going to the polls without a chief ministerial candidate. B S Yediyurappa, who retired from elections recently, had been the party's face in the state from the 1980s. Now, with no mass leader in the state unit, PM Modi is the face of the BJP campaign. He has been trying to blunt antiincumbency and Congress' charge of corruption by reminding voters of the benefits of a BJP "double engine" – having the party's government in the state as well as at the Centre. With an eye on the polls, BJP has hiked quotas for the major caste groups and tried to tap the emotions of Hindu voters by leaning on gods and historical icons. Statues of all sizes have come up across the state.
Congress: In 2018, Congress had put up a good show despite the anti-incumbency, and had a vote share of 38% with 78 seats, although the BJP's aggressive poaching eventually reduced its assembly strength to 69. This time, Congress hopes to capitalise on the corruption charges and anti-incumbency against BJP. Rahul Gandhi, who led the party's 2018 campaign, is busy again. The party screening committee managed to announce its first list of 124 candidates without being swayed by its regional bigwigs, AICC president Mallikarjun Kharge, legislative party president Siddaramaiah, and KPCC president DK Shivakumar. Their interference in the second list, which comes closer to the filing of nominations, cannot be ruled out though.
JD(S): While BJP and Congress are making an all-out bid for the state assembly, JD(S) is hoping to play the role of kingmaker by winning 25-35 seats. It had formed coalition governments with both the BJP and the Congress earlier. On his statewide tour – the Pancharatna Yatra – former JD(S) chief minister H D Kumaraswamy drew large audiences even in north Karnataka, although the JD(S) derives its strength from the Vokkaliga belt in the south. However, BJP's bid to make inroads into the Vokkaliga belt in the Old Mysuru region could help Congress at JD(S)'s expense this time. PM Modi and Union home minister Amit Shah have been telling voters not to vote for JD(S) to avoid a fractured mandate. JD(S) also faces a crisis in Hassan due to a rift between the families of Kumaraswamy and his brother H D Revanna.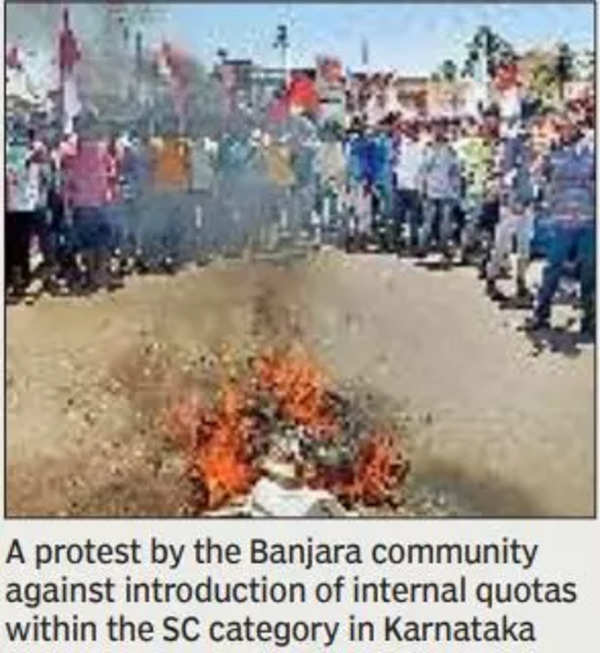 Six major issues before Karnataka polls
Anti-incumbency: BJP faces anti-incumbency in a state where no party has won consecutive terms in over 20 years. It's trying to woo voters with outreach programmes. PM Modi, who had swung around the last LS poll in the state, has toured Karnataka extensively. Congress is banking on BJP's "incumbency burden" and is confident that the corruption charges against its opponent will stick.
Reservation rejig: Hoping to improve its prospects, the BJP government has increased quotas for SCs and STs by 2 and 4 percentage points, respectively, and for the two politically powerful and dominant castes – Lingayats and Vokkaligas – by 2 percentage points each. It is also in the process of implementing the Scheduled Castes' long-pending demand for apportioning the quota among the Dalit castes. But Congress says the changes have come too late to sway voters.
Social engineering: With Mallikarjuna Kharge, Siddaramaiah and D K Shivakumar at its helm, Congress is hoping to get the support of three major communities: the scheduled castes, Kurubas, and Vokkaligas. It also believes Muslims, who make up 11-12% of Karnataka's population, are with it. BJP, while keeping its pro-Lingayat base united, is trying hard to win over the Vokkaligas, who vote JD-S and Congress. It has also tried to extend Hindu consolidation beyond coastal Karnataka. But former PM H.D. Deve Gowda's JD-S is confident the Vokkaligas will rally behind it, giving it over 30 seats and helping him play the kingmaker yet again.
Congress' guarantees: Taking a cue from its success in Himachal Pradesh, Congress has promised a monthly dole to farmers, unemployed graduates and families headed by women, and also free electricity and grains to voters. BJP calls this fiscal imprudence.
Development work: PM Modi and Karnataka CM Basavaraj Bommai have been on an inauguration spree in the past three months. The PM has visited Karnataka at least eight times since January to inaugurate about 50 development projects. New projects amounting to Rs 1 lakh crore – including the Rs 8,500-crore Mysuru-Bengaluru Expressway – have been inaugurated or dedicated to the people in various districts. Even half-done projects have been launched.
Freebies: Enticing voters with freebies isn't new, but it's happening at a different level in Karnataka this time. Television sets, smartphones, grinders, and even insurance policies are on offer as parties go all out to curry favour with voters. 08:03
Karnataka Elections 2023: How crucial are reserved seats in deciding who forms the government?


[ad_2]

Source link