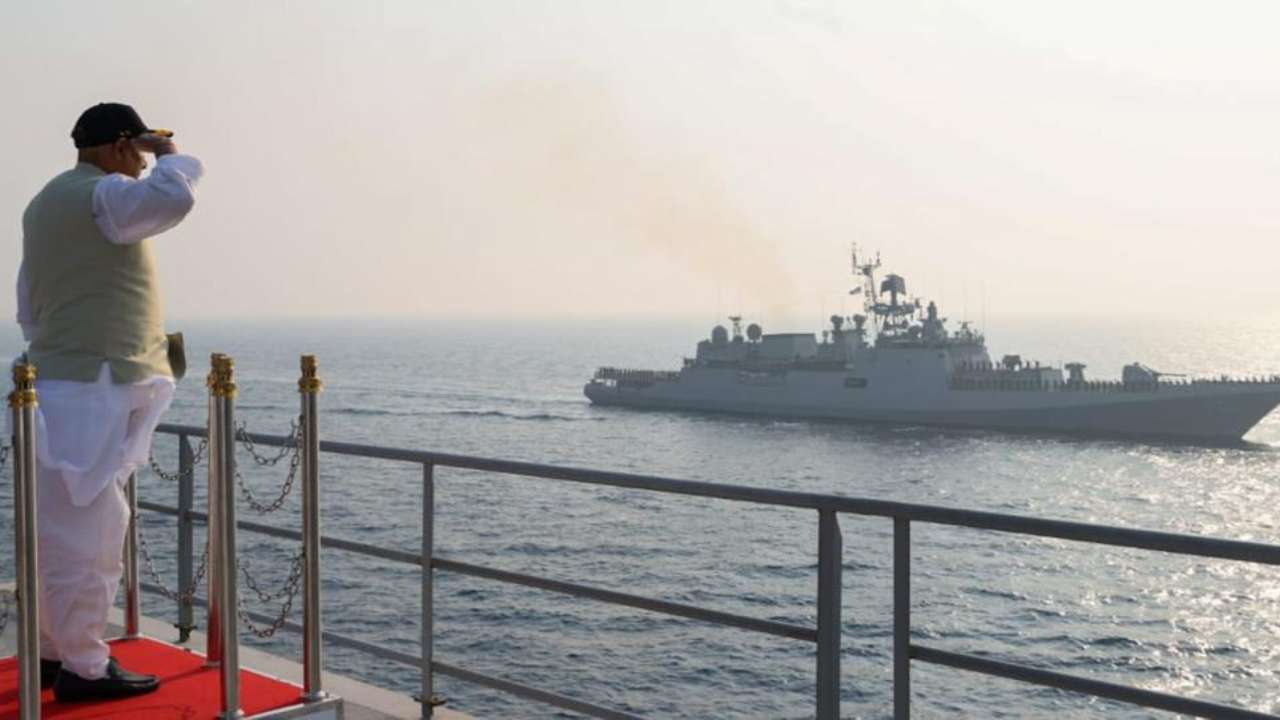 NEW DELHI: The armed forces must maintain high operational readiness along the borders with China and Pakistan as well as the entire coastline, while also focusing on futuristic capability development to effectively thwart emerging threats, defence minister
Rajnath Singh
said on Monday.
"Future conflicts will be unpredictable. The constantly-evolving world order has forced everyone to re-strategize," Singh said, addressing top naval commanders on board indigenous aircraft carrier INS Vikrant off the Goa coast.
"Constant vigil on the northern and western borders, as well as the entire coastline, must be maintained. We need to be ready to deal with all future challenges," he added.
With the Navy standing firm and responsive in protecting national interests in the maritime domain, its mission-based deployments have also strengthened India's position as the "preferred security partner" of friendly foreign countries in the Indian Ocean Region.
Secure borders are the primary requirement to ensure social and economic progress, the minister said, while asserting that India under PM Narendra Modi's leadership is moving forward in 'Amrit Kaal' with "renewed thrust and zeal" to achieve this objective.
Emphasising that economic prosperity and security go hand-in-hand, Singh said the defence sector has emerged as "a major demand creator" that is boosting the economy and ensuring the country's development.
"In the next 5-10 years, orders worth over $100 billion are expected to be placed through the defence sector and it will become a major partner in the economic development of the country," he said.
"Today, our defence sector is on the runway. Soon, when it takes off, it will transform the country's economy. If we want to see India among the top economic powers of the world by the end of 'Amrit Kaal', we need to take bold steps towards becoming a defence superpower," he added.
A huge country like India needs to be completely self-reliant and not dependant on others for its security, he said, listing out various steps taken by the government to achieve 'atmanirbharta' in defence. These range from the notification of four "positive indigenisation lists" and increase in the
FDI
limit in the defence production sector to creating a favourable environment for Indian vendors including MSMEs and the earmarking of a record 75% of the defence capital procurement budget for the domestic industry in 2023-2024.